Every Wednesday, until there is an agreement in place, please join the picket line from 4pm to 6pm outside St. Vincent Hospital to help show solidarity from the IBEW. St. Vincent nurses will be attending a membership meeting to update and review strike issues and plans and they need our help to keep the line going. Your participation on the picket line is critical to show Tenet Healthcare that our unity is our strength!
All entrances to the hospital will need to be covered from 4pm to 6pm Wednesday with your assistance. Please encourage friends, family, colleagues, and allies to do the same. We will repeat this plan going forward every Wednesday from 4pm to 6pm when St. Vincent nurses hold future membership meetings. We will keep you informed of additional activities/events during the strike as well. The strike Headquarters is located at 11 E. Central St. in Worcester. Park at HQ @ 11 E Central, sign in, grab a picket sign and take the short walk to the line.
This Local has done its fair share of holding down a picket line. It is not an easy task. When we were on strike we received support from many labor organizations. We have to pay it forward. A fight for a fair contract for any local is a fight for all.
For more information, go to www.massnurses.org/StVincentNurses.
In Solidarity,
Dave Keating
Business Manager IBEW Local 2325
Support MNA St Vincent's nurses;
Please join us this Saturday 3/20 4-6pm and on Wednesdays going forward from 4-6pm or you can join the picket line at any time 6am-midnight. Park at strike headquarters @ 11 E Central St, sign in, pick up a sign, and take the short walk over to the line and get some steps in. Wear some IBEW gear to let them know who you are and that we support them in their fight for a fair contract. A fight for 1 Union is a fight for ALL!!!
This is IBEW 2325 on the picket line supporting MNA St Vincent's nurses on Wednesday 3/17.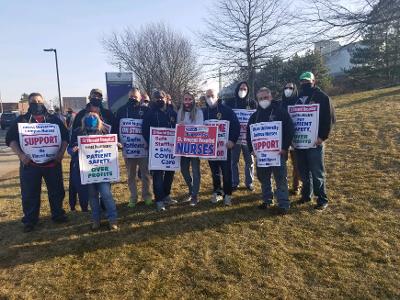 IBEW 2325 Business Manager David Keating and Asst Business Manager Jamie Gniadek spent time today with the fearless nurses of St Vincent hospital. The nurses of St V's and the MNA are on strike against Tenet Healthcare. They are fighting for better working conditions and safer patient care. Tenet wants to cut corners and put more money in their pockets. This jeopardizes patient care and puts a huge stress on our already overworked nurses. They need our support. Please take time out of your day to join them on the picket line. We all remember what a fight like this means. "Nurses are the heart and soul of the healthcare system and must be treated with respect. We demand it." said Business Manager Dave Keating